Get link

Facebook

Twitter

Pinterest

Email

Other Apps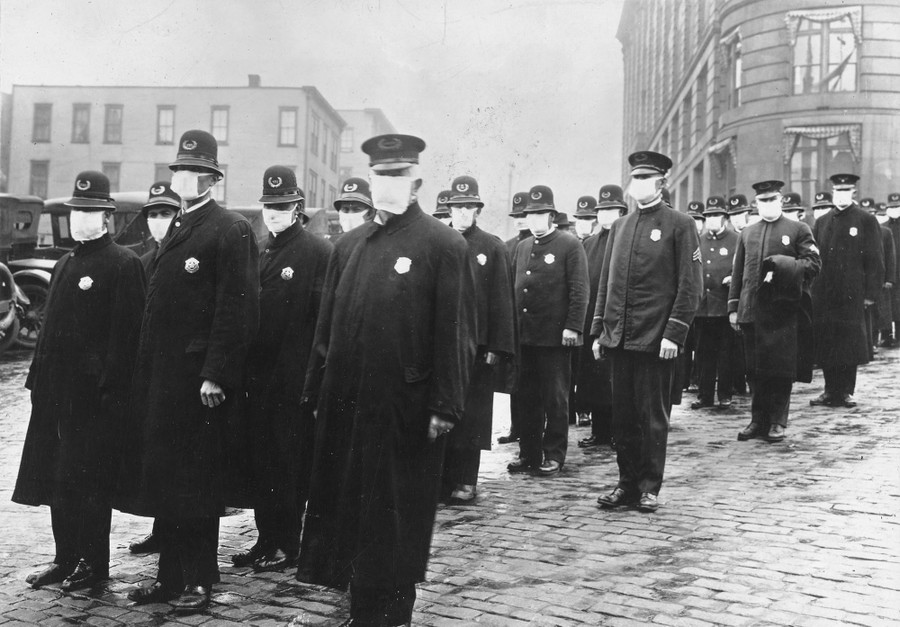 Between 1918 and 1919, an outbreak of influenza spread rapidly across the world, and killed more than 50 million—and possibly as many as 100 million—people within 15 months. The speed of the pandemic was shocking; the numbers of dead bodies overwhelmed hospitals and cemeteries. Quarantine centers, emergency hospitals, public use of gauze masks, and awareness campaigns were all undertaken swiftly to halt the spread. But as World War I was coming to a close, millions of soldiers were still traveling across the globe, aiding the spread of the disease. While its exact origins are still debated, it's understood that the "Spanish Flu" did not come from Spain. The name seems to have arisen as reporting about influenza cases was censored in war-affected countries, but Spain was neutral, so frequent stories appeared about the deadly flu in Spain. Gathered here are images from the battle against one of the deadliest events in human history, when the flu killed up to 6 percent of the Earth's population in just over a year.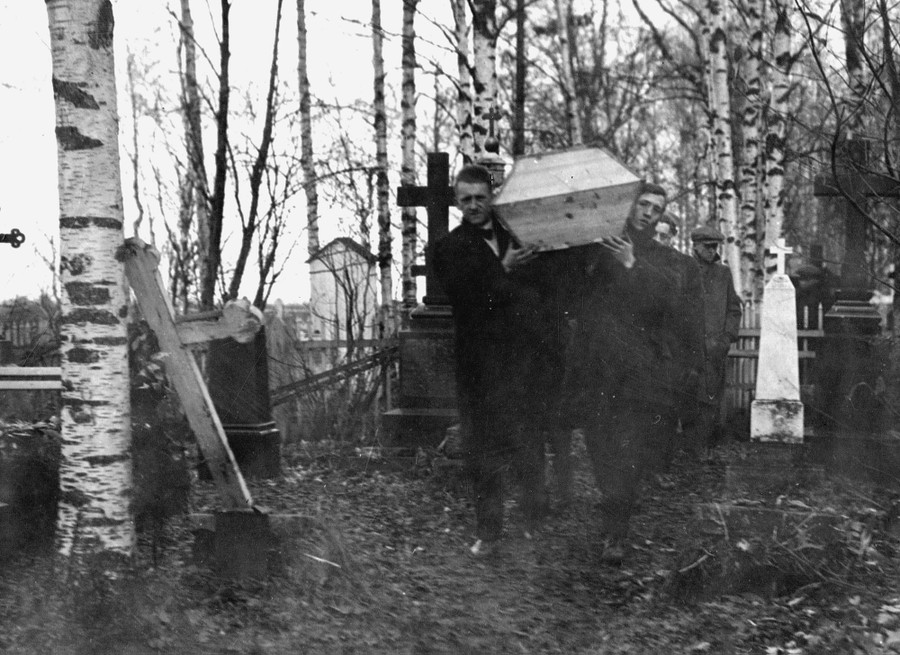 2.
Original caption from the National Archives: "February, 1919. U.S. Army at Archangel Front, Russia. Funeral of member of crew of U.S.S. Ascutney. Three members died in Archangel and many were sick with influenza."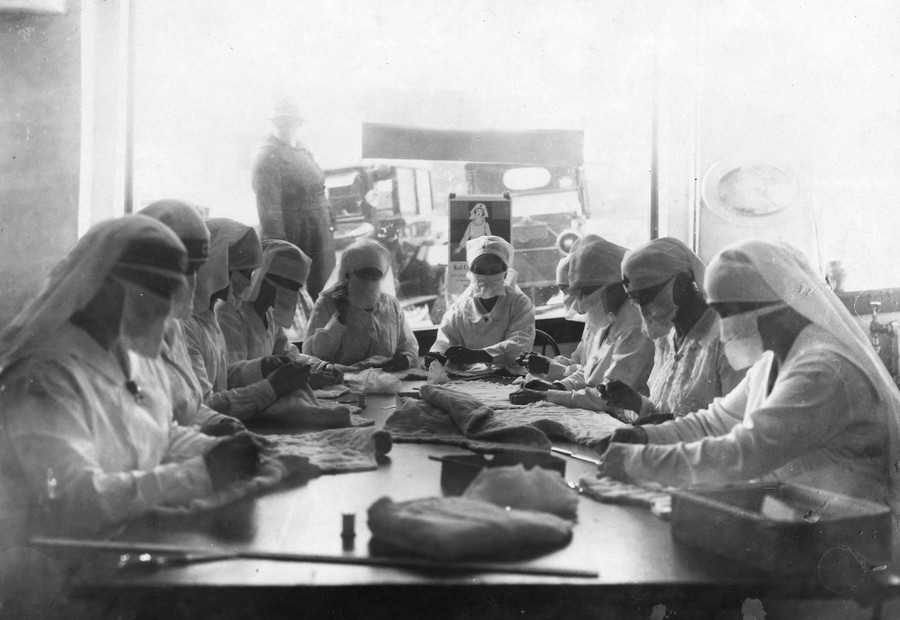 3.
Combating influenza in Seattle in 1918, workers wearing masks on their faces in a Red Cross room.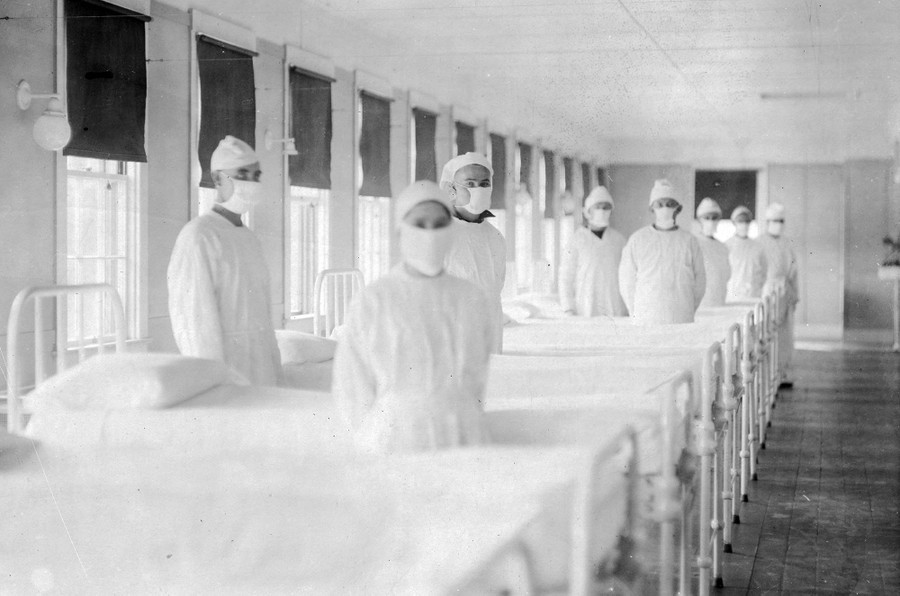 4.
Corpsmen in caps and gowns ready to attend patients in the influenza ward of the U.S. Naval Hospital on Mare Island, California, on December 10, 1918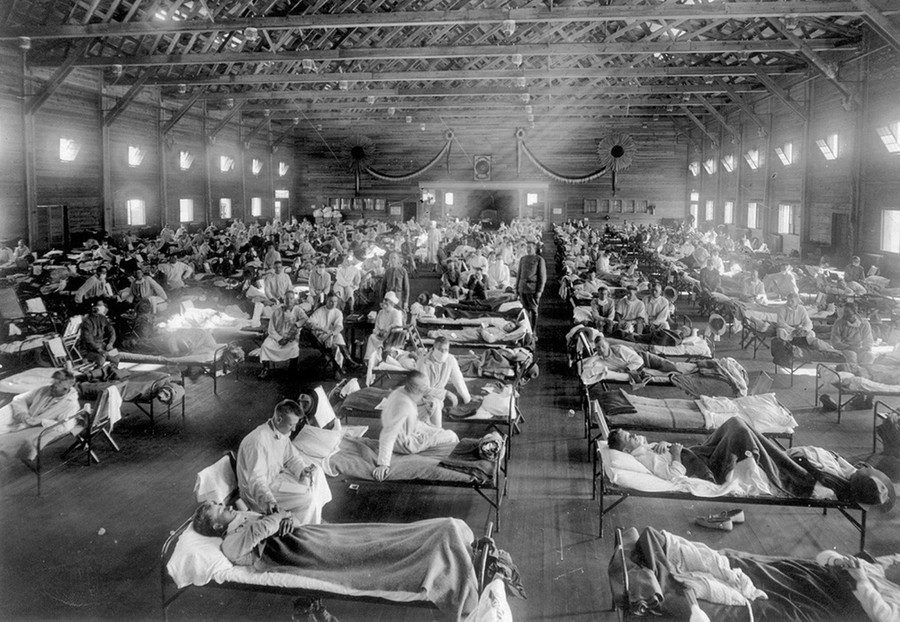 5.
Influenza victims crowd into an emergency hospital near Fort Riley, Kansas in 1918.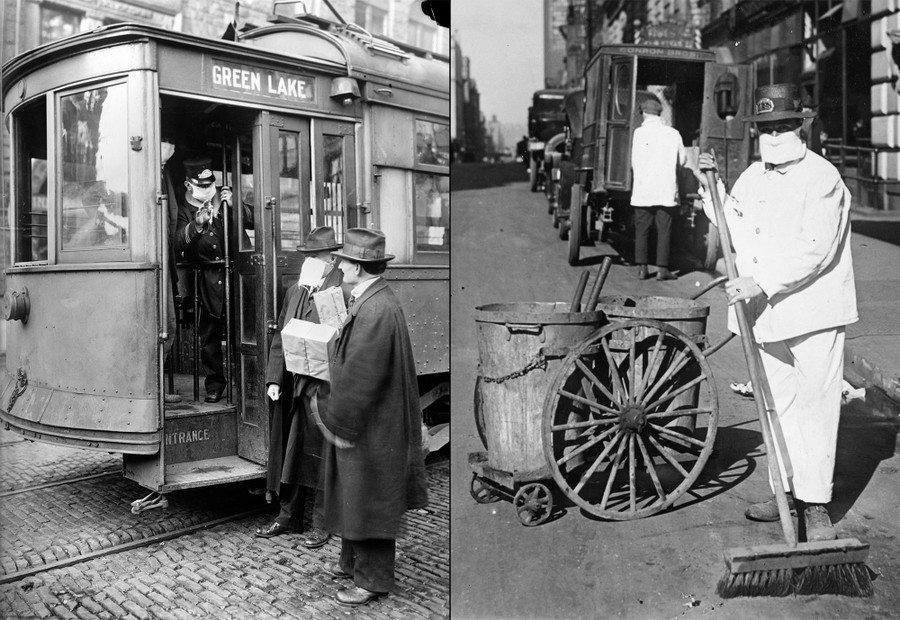 6.
Left: A conductor checks to see if potential passengers are wearing required masks in Seattle, in 1918. Right: A mask is worn by a street sweeper in New York in 1918. The admonition of the New York Health Board to wear masks to check the spread of influenza epidemic was: "Better ridiculous than dead."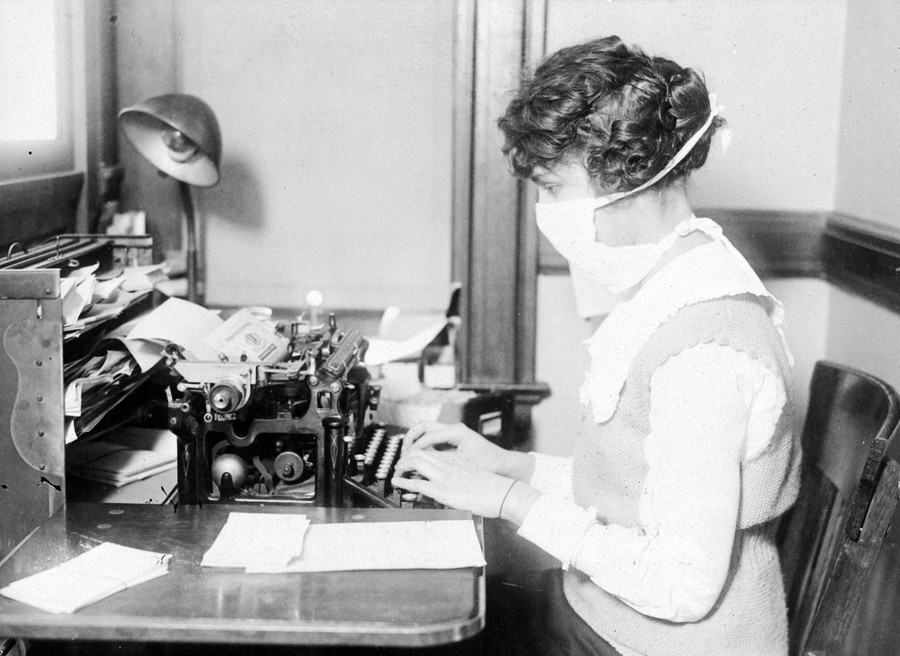 7.
A typist wears her influenza mask in October of 1918. Worried by the hold that disease had taken in New York City, practically all workers covered their faces in gauze masks as a protection against disease.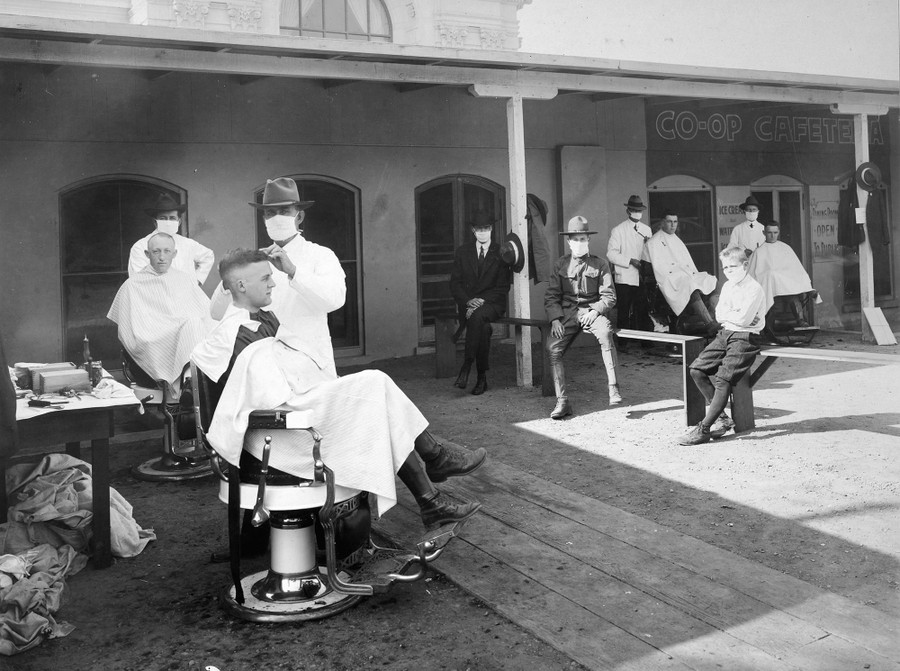 8.
An open-air barber shop. Public events were encouraged to be held outdoors to hinder the spread of the disease during the influenza epidemic. Photographed at the University of California, Berkeley, in 1919.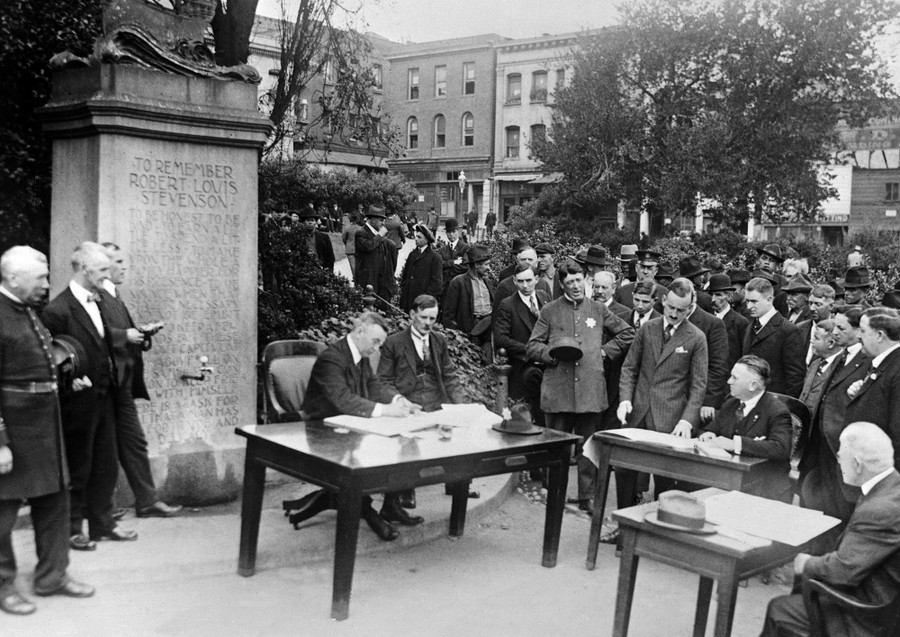 9.
Court is held in the open air in San Francisco in 1918.
10.
Physics class, University of Montana, Missoula, 1919. During the influenza epidemic, classes were held outdoors.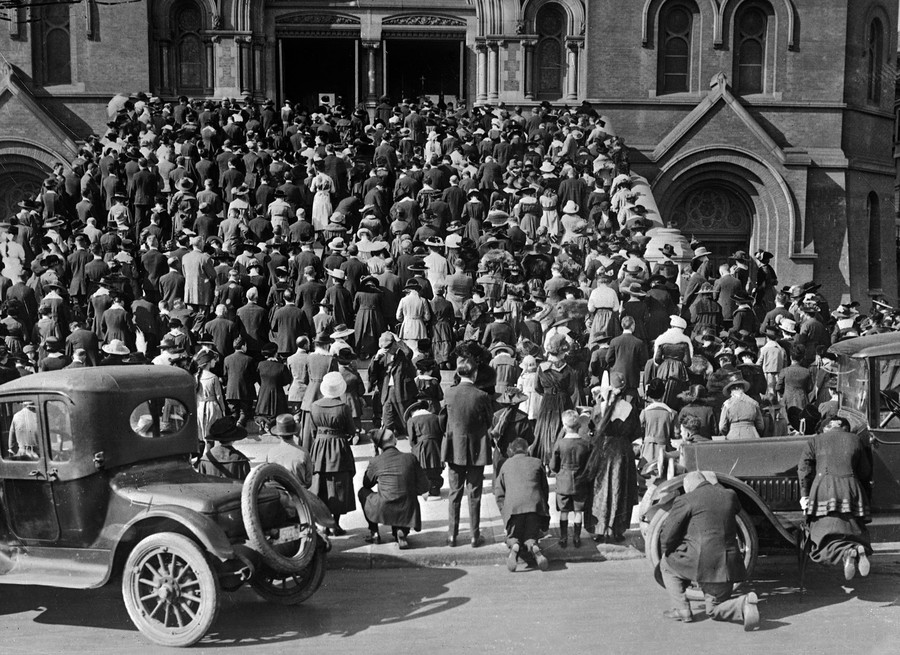 11.
The congregation prays on the steps of the Cathedral of Saint Mary of the Assumption, where they gathered to attend mass and pray during the influenza epidemic, in San Francisco, California.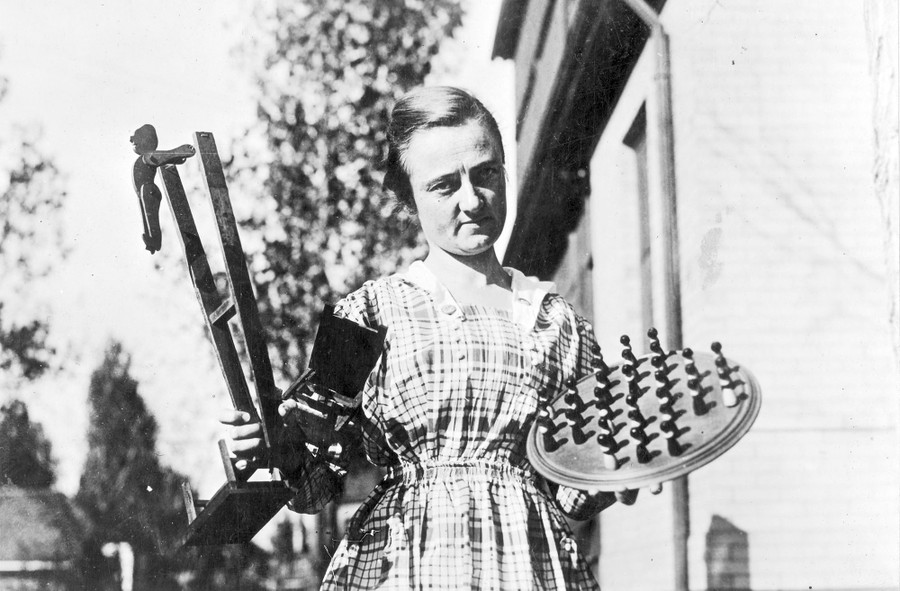 12.
While schools were closed during the influenza pandemic, many American children made toys for refugee children overseas.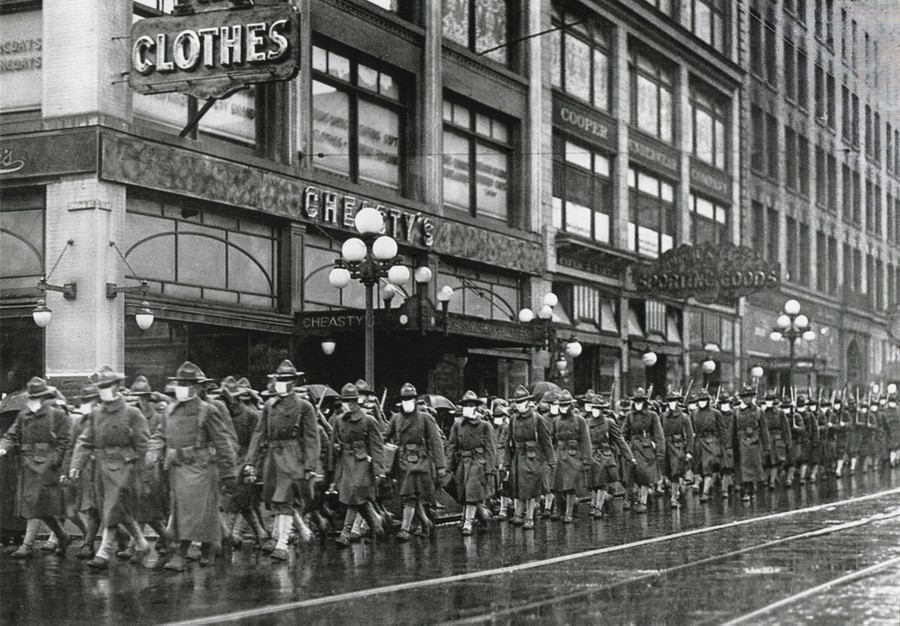 13.
The U.S. Army 39th regiment wear masks to prevent influenza in Seattle in December of 1918. The soldiers are on their way to France.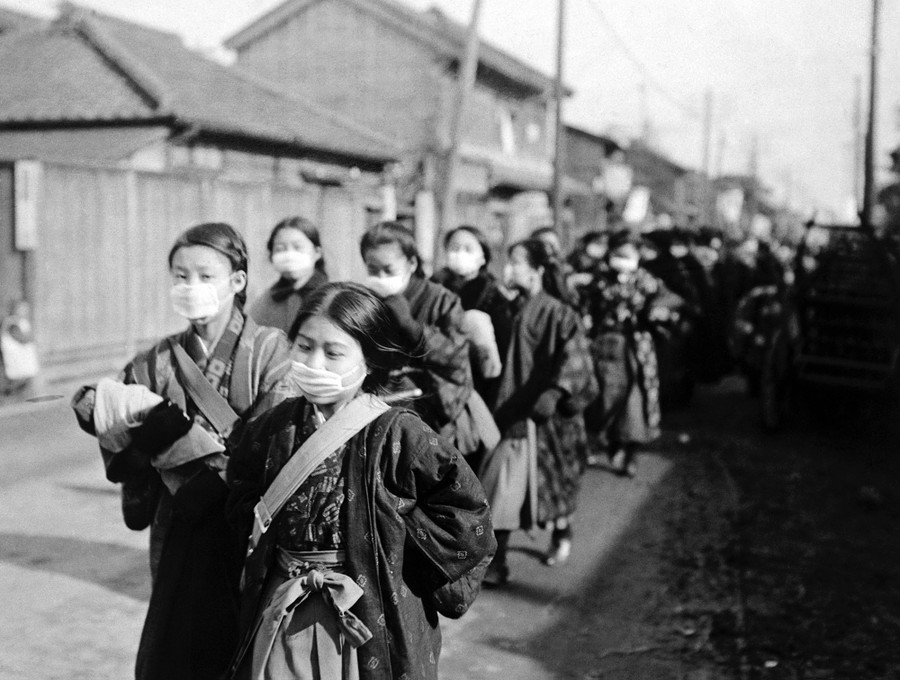 14.
Japanese school girls wear protective masks to guard against the influenza outbreak.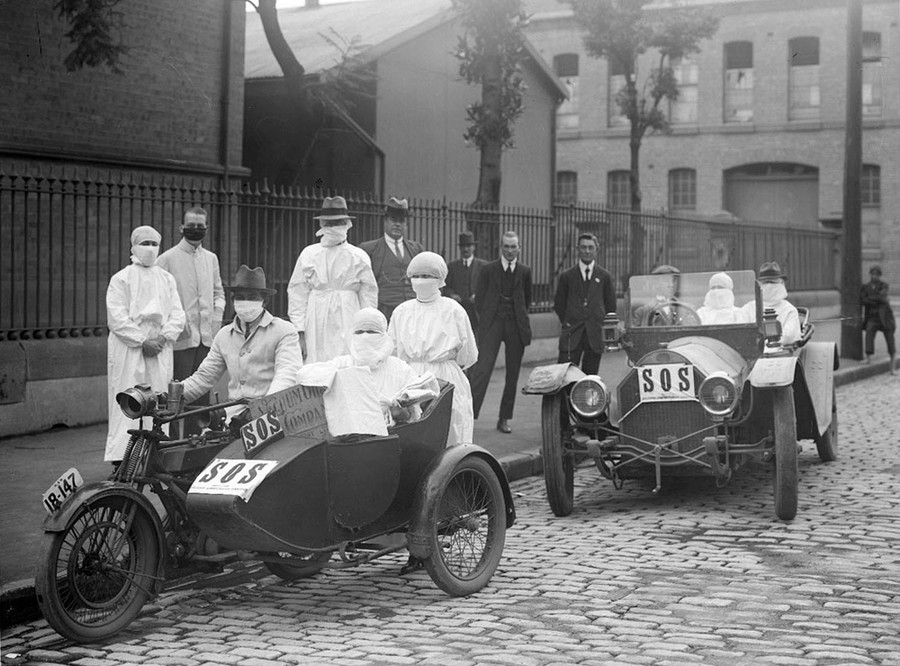 15.
In Sydney, Australia, nurses leave Blackfriars Depot in Chippenedale during the flu epidemic in April of 1919.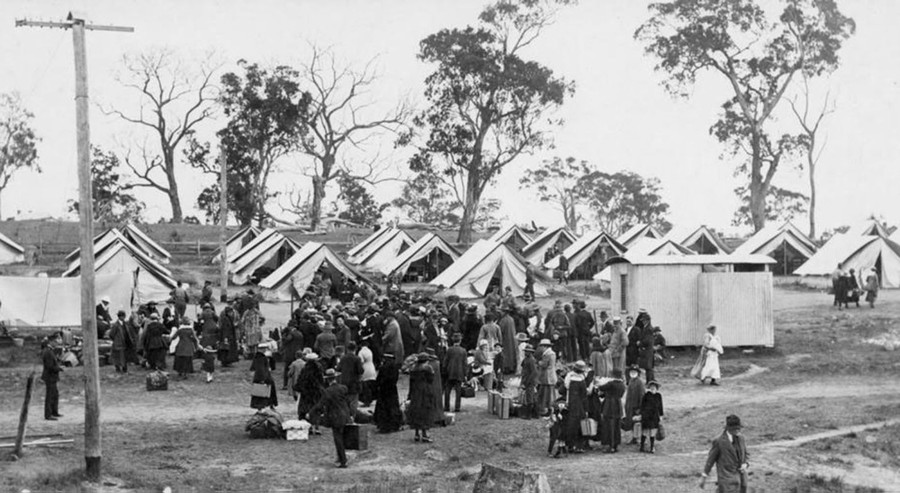 16.
People arrive at a quarantine camp in Wallangarra, Australia, during the influenza epidemic of 1919.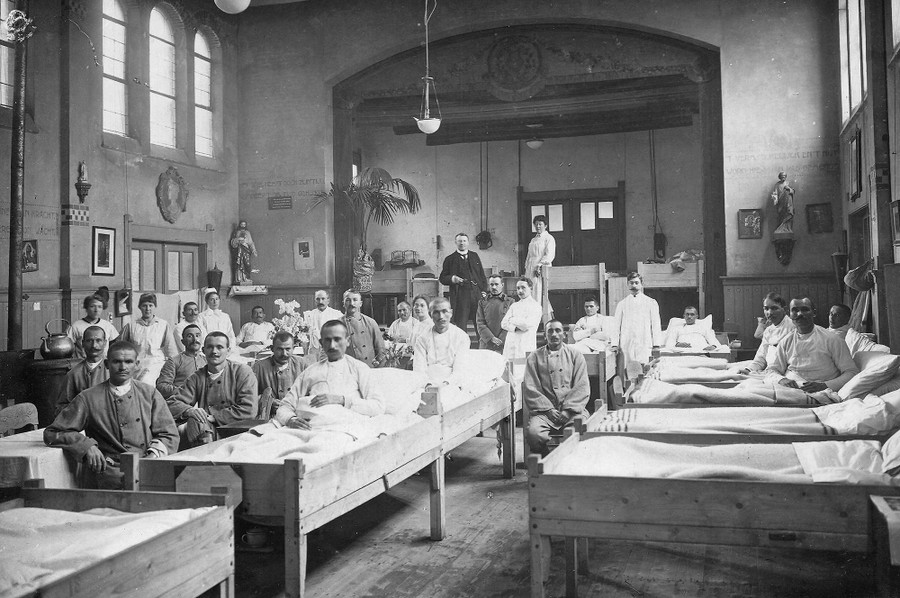 17.
Serbian soldiers are treated for influenza on February 5, 1919, in Rotterdam, Netherlands, at the auxiliary hospital for Serbians and Portuguese. The auxiliary hospital was located in Schoonderloostraat, the building of the Society of St. Aloysius. In the center is Captain Dragoljub N. Đurković with a member of the medical staff.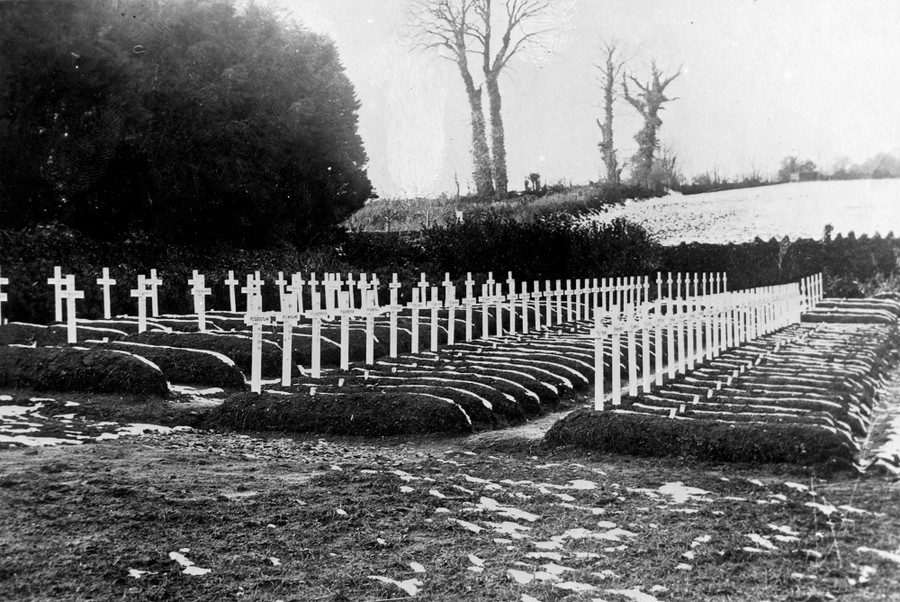 18.
Graves of U.S. soldiers who died of influenza in Devon, England, photographed on March 8, 1919. The graves contain the bodies of 100 American wounded soldiers at Paignton Military Hospital that died from the epidemic of influenza that spread over England.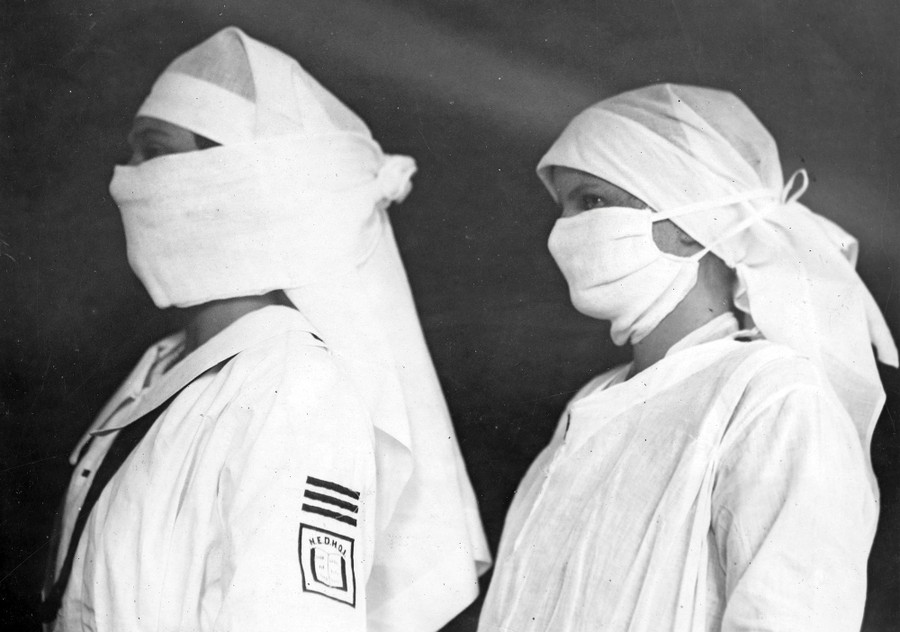 19.
Nurses in Boston hospitals are equipped with masks to fight influenza in the spring of 1919.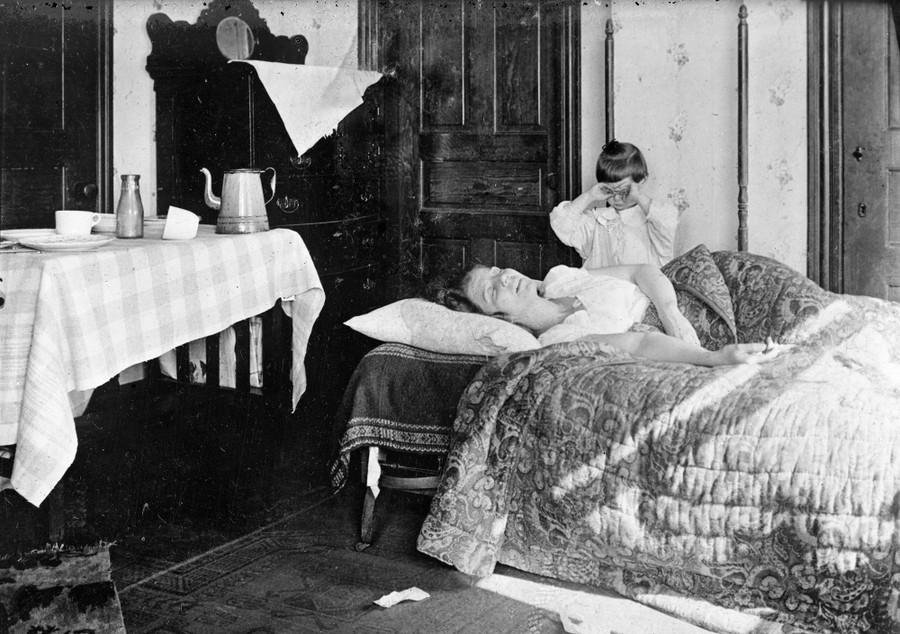 20.
A girl stands next to her sister, who is lying in bed, in November of 1918. The young girl became so worried that she telephoned the Red Cross Home Service, which came to help the woman fight the influenza virus.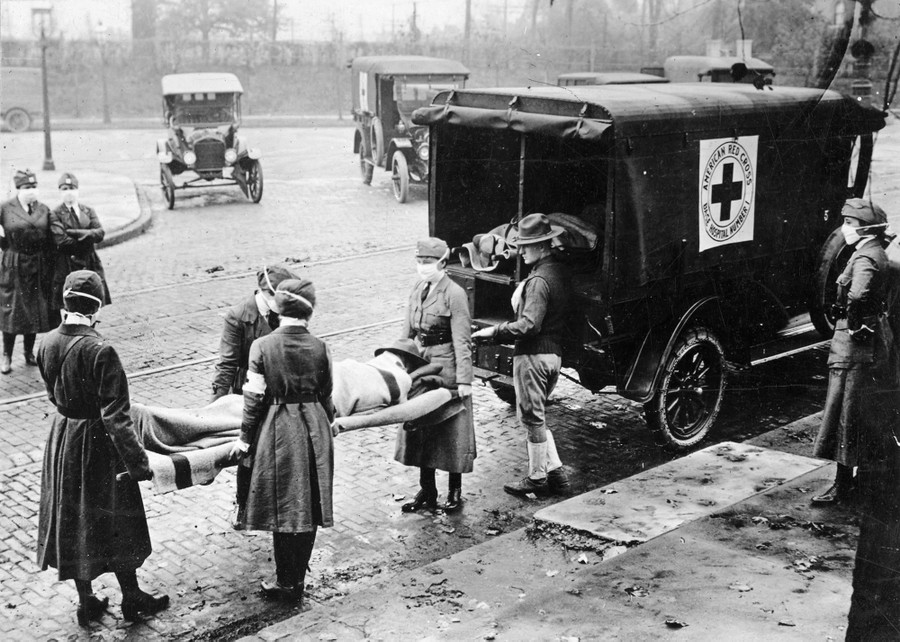 21.
Red Cross Motor Corps members on duty during the influenza epidemic in the United States, in St. Louis, Missouri, in October of 1918.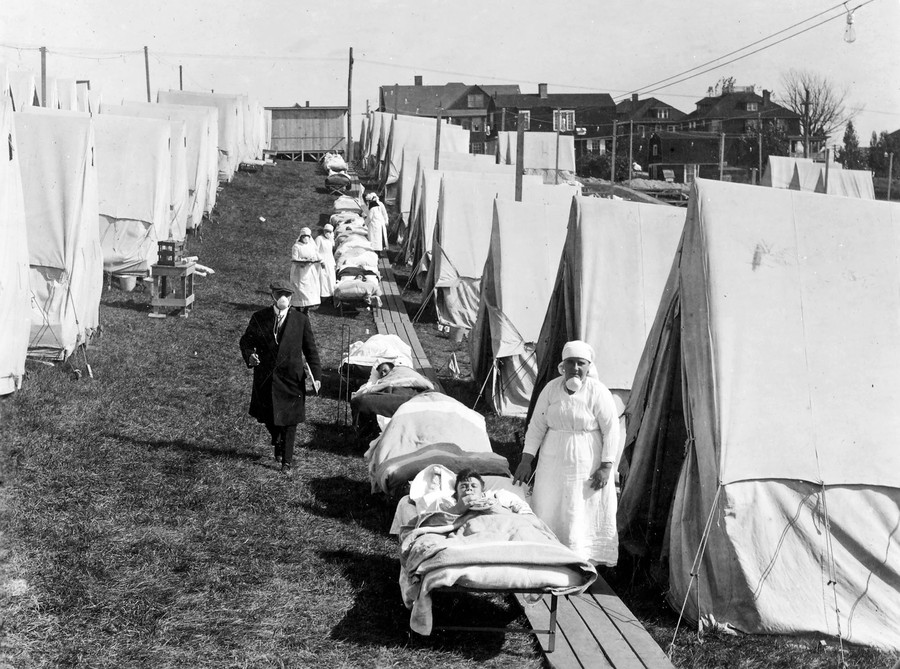 22.
An emergency hospital set up in Brookline, Massachusetts, to care for influenza cases, photographed in October of 1918.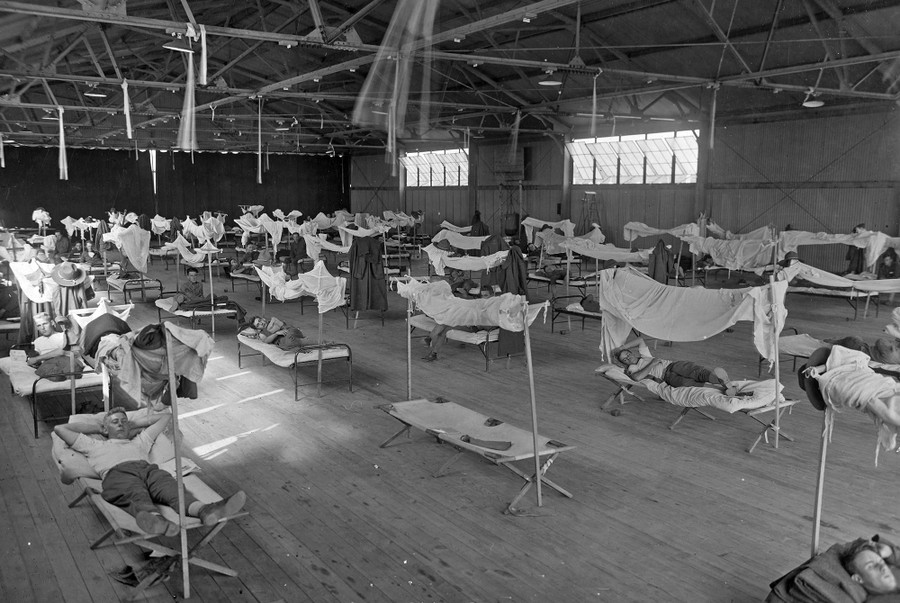 23.
Convalescing influenza patients, isolated due to an overcrowded hospital, stay at the U.S. Army's Eberts Field facilities in Lonoke, Arkansas, in 1918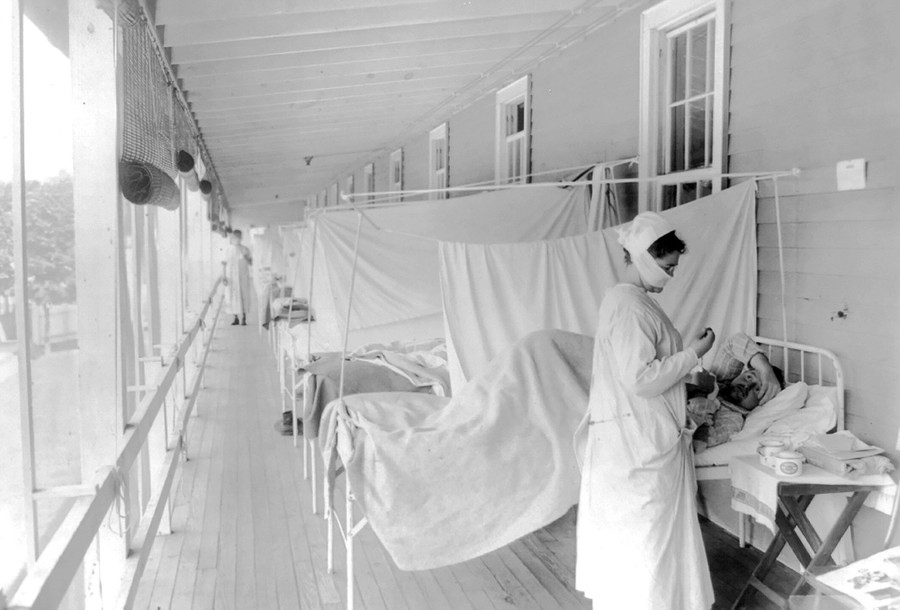 24.
A nurse takes the pulse of a patient in the influenza ward of the Walter Reed hospital in Washington, D.C., in November of 1918.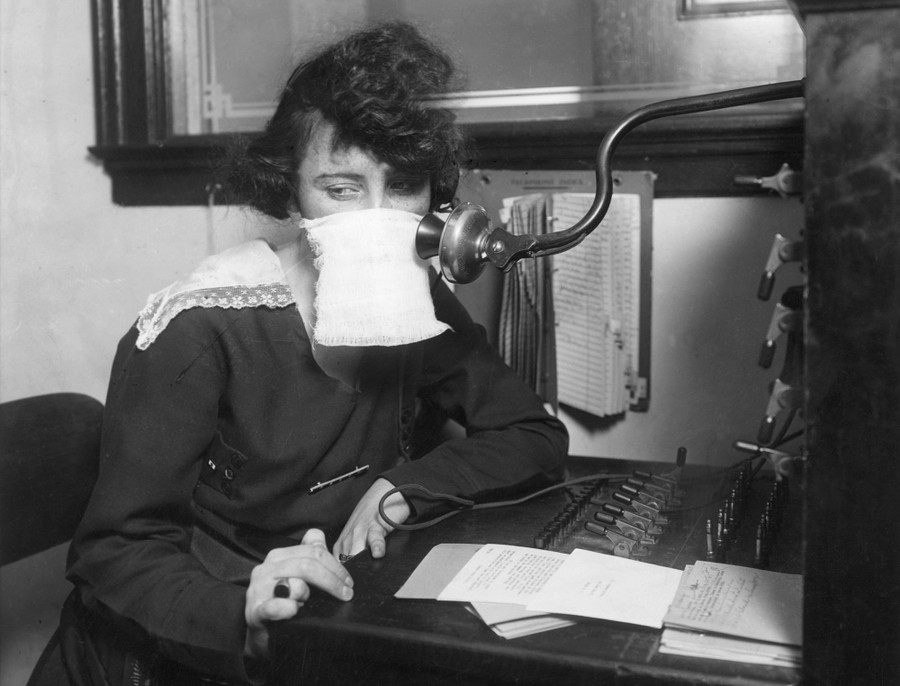 25.
A telephone operator wears protective gauze in 1918.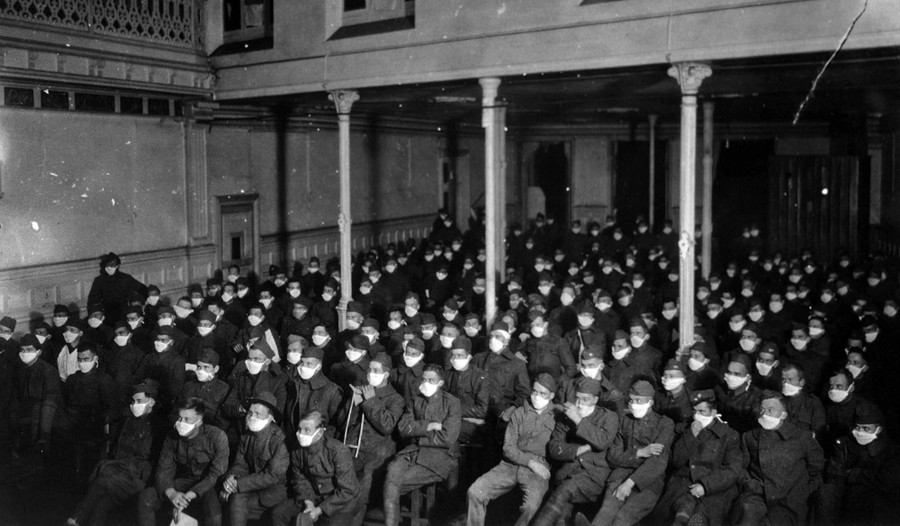 26.
Recovering soldiers watch a motion picture show wearing flu masks at U.S. Army Hospital Number 30 in Royat, France.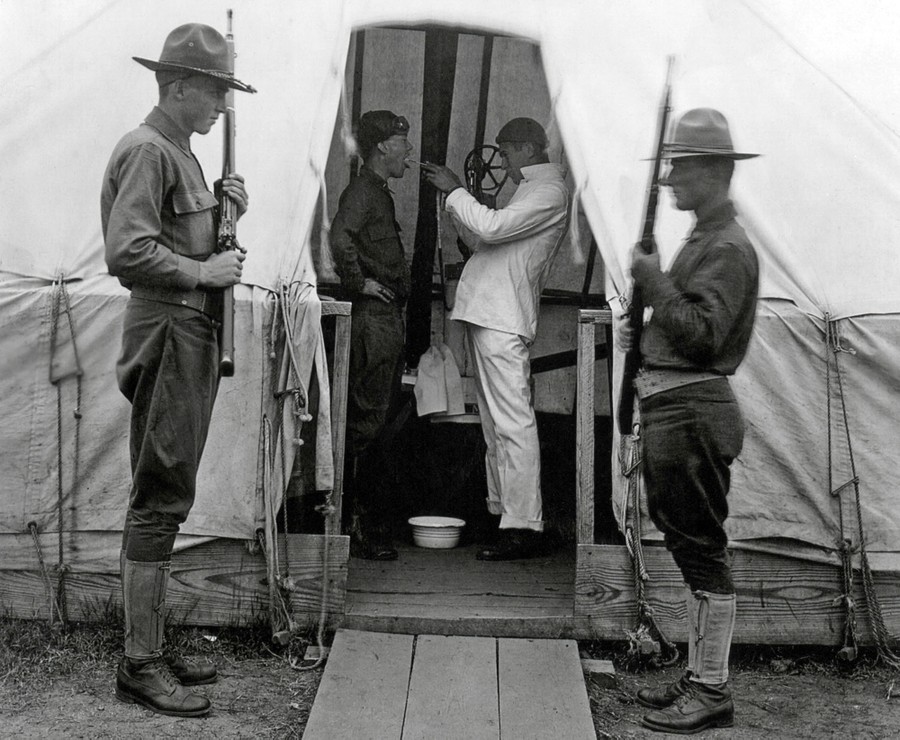 27.
An American soldier has his throat sprayed to prevent influenza in December of 1918 at Love Field in Dallas, Texas.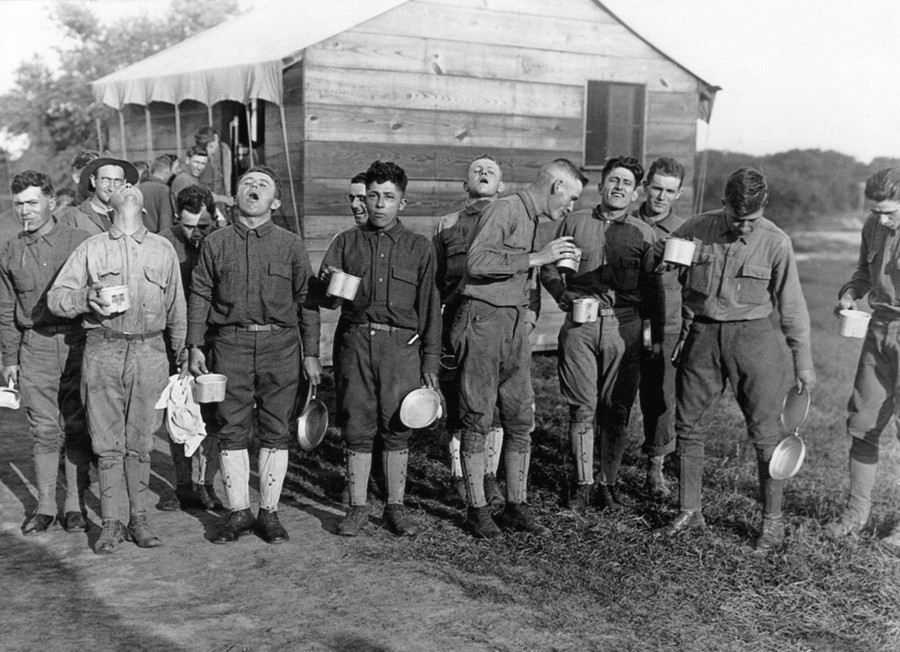 28.
Soldiers gargle with salt water to prevent influenza on September 24, 1918, at Camp Dix, New Jersey.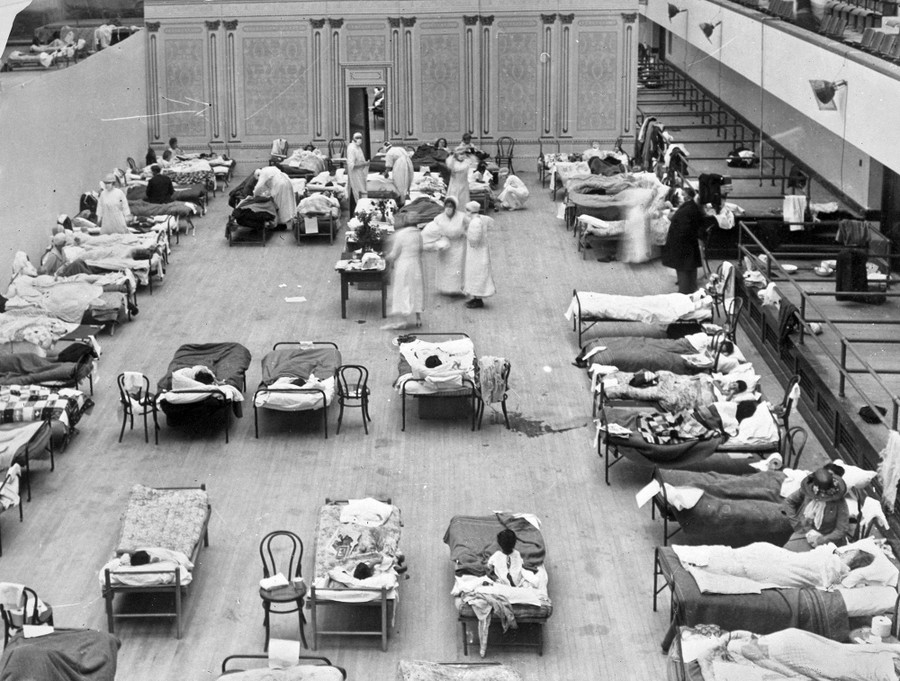 29.
Volunteer nurses from the American Red Cross tend to influenza patients in the Oakland Municipal Auditorium, used as a temporary hospital in 1918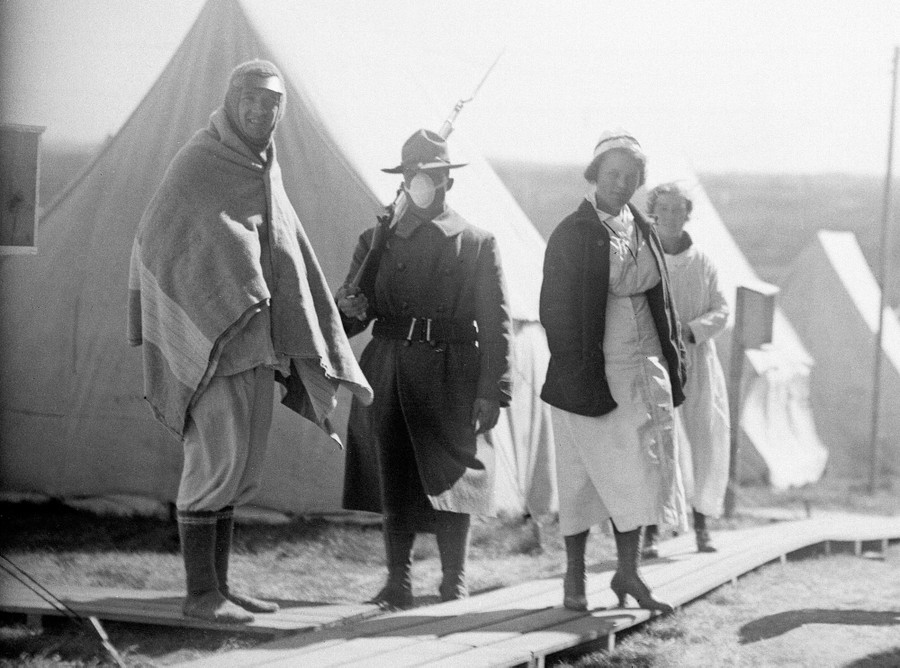 30.
Original caption: "Photo shows a scene in the influenza camp at Lawrence, Maine, where patients are given fresh air treatment. This extreme measure was hit upon as the best way of curbing the epidemic. Patients are required to live in these camps until cured."
https://www.theatlantic.com/photo/2018/04/photos-the-1918-flu-pandemic/557663/
Get link

Facebook

Twitter

Pinterest

Email

Other Apps